Aka.ms/mfasetup – What is Multi-Factor-Authentication
Aka.ms/mfasetup –  Multi-Factor Authentication (otherwise known as 'two-step verification or MFA ) is a security feature included with Office 365 that protects your Office 365 account.
MFA makes it less difficult for hackers to access your account, adding another security layer for your personal information.
MFA differs from using an old-fashioned password and username in that it requires verification of the device you access your account through.
The two methods typically used to verify your identities are your username and password and an item you are certain is yours to have(e.g., a cellphone).
If you are logging into your account using MFA, it is required to enter your username and password and show that you have possession of a reliable device (i.e., phone.) Because of the constant risk of data breaches, it's an expectation for Concord College that MFA is activated when using Office 365-enabled applications outside the boundaries of the network.
This is to secure Student and Staff Office 365 linked user accounts. This means that you'll be required to configure MFA if you're accessing Office 365 Creative Cloud/Office 365 applications and your brand newly created Office 365 mailbox from outside the campus.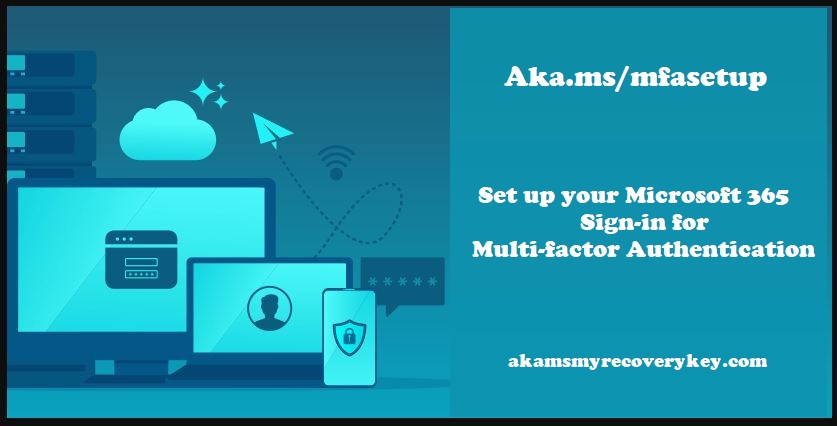 Set up your Microsoft 365 Sign-in for Multi-factor Authentication
You should use a Mobile Phone or Android/Apple tablet device as your main method of Multi-Factor authentication.
If you own a phone, follow the directions to set up Multi-Factor authentication on an Android or iOS device'. If you do not possess a phone, follow the steps on 'Setting up Multi-Factor authentication with a home or desk phone.'
Set up Multi Factor Authentication on a mobile device
To set up Multi Factor Authentication for your Office 365 account:
STEP 1. Please download Microsoft Authenticator. Install the Microsoft Authenticator app from your compatible AppStore on your smartphone or mobile device.
Below are direct links to the various platforms supported:
STEP 2. Open your web browser on your workstation/laptop/surface and go to https://aka.ms/MFASetup. Click 'Sign in'
STEP 3. Fill in your Concord College email address and select 'Next.'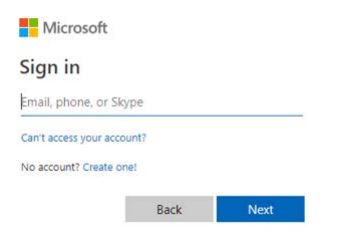 STEP 4. Please enter your typical network login password, then select 'Sign In.'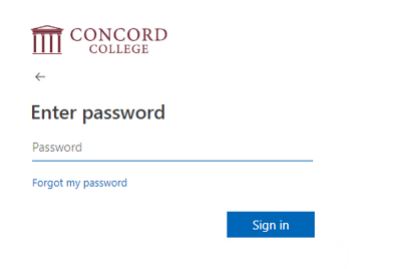 STEP 5. You will be directed to the next page. Select Next: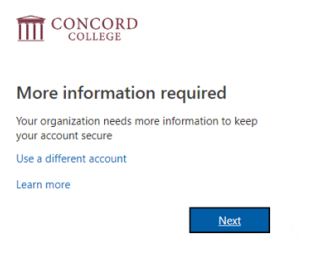 STEP 6. You'll be able to access the Additional Security Verification/Multi-Factor authentication page. You will have a variety of choices.
Select the option 'Mobile App and choose 'Receive notifications to verify'. Select 'Set up':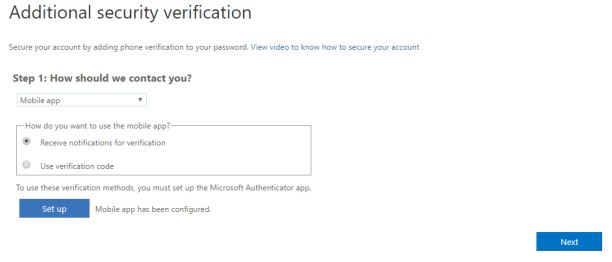 STEP 7. The pop-up box below will pop up, showing the code 'QR: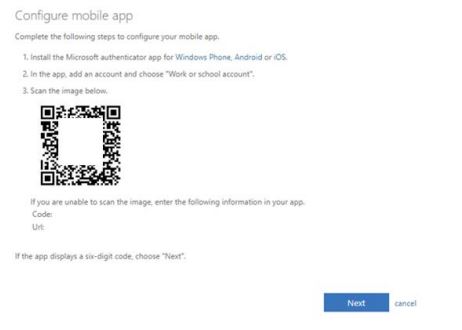 STEP 8. Launch the Microsoft Authenticator application on your smartphone.
STEP 9. Tap + > School or Work account or select "Add account" in the choices menu(on certain devices, you may have to tap the option to add an account within the app menu: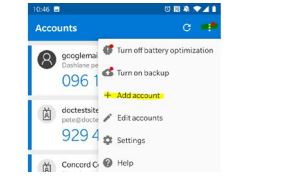 STEP 10. Utilize your smartphone to scan the QR code that will appear on the computer screen.
STEP 11. The account you have created will be automatically added to the app and show a six-digit number.
STEP 12. Return to your computer and then click Next.
STEP 13. Then, wait for the "Checking activation status' message to confirm the configuration of your phone.
STEP 14. On your computer, ensure that 'Receive notification to verify Select this option and then select 'Next.'
STEP 15. Reconnect to your phone and receive a notification about an update to sign in.
STEP 16. Visit Microsoft Authenticator. Microsoft Authenticator app.
STEP 17. Tap Approve and allow it.
STEP 18. On the computer, follow any prompts you may encounter, such as entering a mobile number
NOTE: It is suggested to include a mobile number since this could become a backup method to authenticate. When you are done, click 'Done.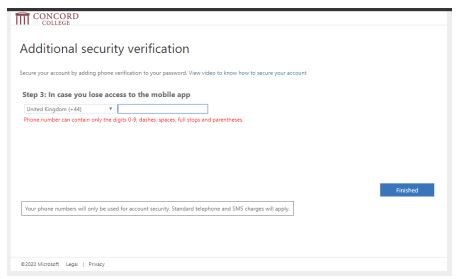 STEP 19. You'll be taken to an additional Security verification website'. You can modify or add details on the page as needed and also add additional ways of multi Factor authentication as needed. After you are satisfied with the data entered, you are able to shut the window.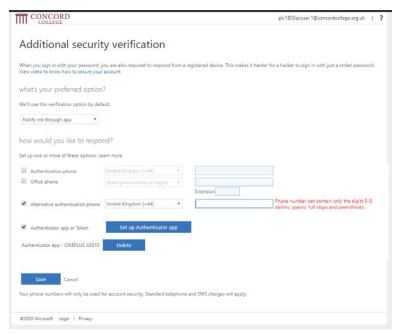 STEP 20. From now on, every time you're prompted to log in or sign in to the Office 365 work or school account to an app, you'll be able to open the Authenticator application on your smartphone and click"Approve.
If you are having issues setting up MFA, calling the ICT department for assistance is recommended.
Also Check: